| | |
| --- | --- |
| Book Name: | [PDF] The Science and Engineering of Materials by Donald R. Askeland |
| Category: | Material Science |
| Free Download: | Available |
The Science and Engineering of Materials by Donald R. Askeland, Third Edition, continues the general theme of the earlier editions in providing an understanding of the relationship between structure, processing, and properties of materials. This text is intended for use by students of engineering rather than materials, at first degree level who have completed prerequisites in chemistry, physics, and mathematics. The author assumes these stu­ dents will have had little or no exposure to engineering sciences such as statics, dynamics, and mechanics. The material presented here admittedly cannot and should not be covered in a one-semester course. By selecting the appropriate topics, however, the instructor can emphasise metals, provide a general overview of materials, concentrate on mechani­ cal behaviour, or focus on physical properties. Additionally, the text provides the student with a useful reference for accompanying courses in manufacturing, design, or materials selection. In an introductory, survey text such as this, complex and comprehensive design problems cannot be realistically introduced because materials design and selection rely on many factors that come later in the student's curriculum. To introduce the student to elements of design, however, more than 100 examples dealing with materials selection and design considerations are included in this edition.
The Science and Engineering of Materials by Donald R. Askeland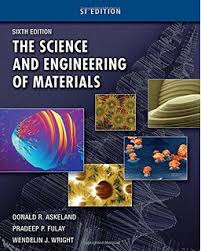 Table Of Content:
INTRODUCTION TO MATERIALS SCIENCE AND ENGINEERING
ATOMIC STRUCTURE
ATOMIC AND IONIC ARRANGEMENTS
IMPERFECTIONS IN THE ATOMIC AND IONIC ARRANGEMENTS
ATOM AND ION MOVEMENTS IN MATERIALS
MECHANICAL PROPERTIES: PART ONE
MECHANICAL PROPERTIES: PART TWO
STRAIN HARDENING AND ANNEALING
PRINCIPLES OF SOLIDIFICATION
SOLID SOLUTIONS AND PHASE EQUILIBRIUM
DISPERSION STRENGTHENING AND EUTECTIC PHASE DIAGRAMS
DISPERSION STRENGTHENING BY PHASE TRANSFORMATIONS AND HEAT TREATMENT
HEAT TREATMENT OF STEELS AND CAST IRONS
NONFERROUS ALLOYS
CERAMIC MATERIALS
POLYMERS
COMPOSITES: TEAMWORK AND SYNERGY IN MATERIALS
CONSTRUCTION MATERIALS
ELECTRONIC MATERIALS
MAGNETIC MATERIALS
PHOTONIC MATERIALS
THERMAL PROPERTIES OF MATERIALS
CORROSION AND WEAR
The Science and Engineering of Materials, Sixth Edition PDF
Author(s): Donald R. Askeland, Pradeep P. Fulay, Wendelin J. Wright
Publisher: CL-Engineering, Year: 2010
ISBN: 0495296023,9780495296027
Related Results : 1st international conference on the science and engineering of materials 2013,askeland d.r. the science and engineering of materials,askeland donald r. the science and engineering of materials,askeland science and engineering of materials 6 edition,california institute of technology center for the science and engineering of materialscenter for the science and engineering of materials,
Related More Books
See More POST On : Engineering Books