How to Write a CV That Really Works by Paul Mcgee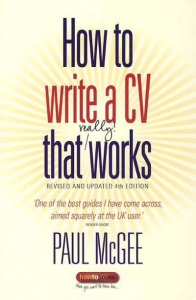 There are not many certainties in life – death and taxes are probably the main ones. Now there is another. At some time, we are all likely to need a Curriculum Vitae, or CV for short.
Whether we're leaving school or college, wanting a career change, experiencing redundancy or returning from a career break, our first priority is to get a CV written.
Not only is a CV necessary for the benefit of the intended reader, but as this book will illustrate, compiling one can provide a great insight for you personally.
Rather than relying on someone who doesn't know you to write your 'personal sales brochure', this book gives you a practical step-by-step approach to creating your own.
I hope for once you will value your Dad's advice! Finally, I hope this book contributes in some way to the future success of all its readers. Good luck.
Download Free PDF Book : How to Write a CV That Really Works by Paul Mcgee
Get Paper Book : How to Write a CV That Really Works
How to Write a CV That Really Works: A Concise, Thorough and Comprehensive Guide to Writing an Effective Resume PDF
Author(s): Paul McGee
Publisher: How to Books, Year: 2009
ISBN: 1848033575,9781848033573



See More POST On : Engineering Books