| | |
| --- | --- |
| Book Name: | Algal Blooms and Membrane Based Desalination Technology |
| Category: | Civil Engineering Books |
| Language: | English |
| Format: | PDF |
| Free Download: | Available |
Free Download Algal Blooms and Membrane-Based Desalination Technology PDF Book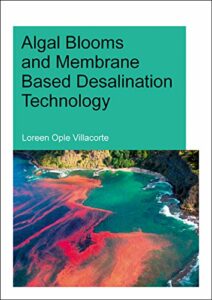 Book Description:
Seawater desalination is increasing in terms of installed capacity (about 80 million m3/day in 2013), plant size, and global use. Algal blooms, seasonal growths of tiny algae in seawater, are becoming a threat to this technology. Such blooms have caused problems in seawater reverse osmosis (SWRO) plants because they clog up the pre-treatment system and lower the quality of the effluent. Eventually, the plant had to be shut down to prevent irreversible fouling of the SWRO membranes further down the line. As more extra-large SWRO plants (>500,000 m3/day) are expected to be built in the coming years, SWRO installations will not be able to be cleaned chemically more than once a year. Instead, a more reliable pre-treatment system will be needed. Pre-treatment with ultrafiltration (UF) membranes has been suggested to keep SWRO plants running smoothly during algal blooms.
This paper talks about how algal blooms affect the way UF pre-treatment and SWRO work. Experiments have shown that marine algal blooms can affect how well UF can clean itself and can speed up biological fouling in RO. But it's unlikely that algae are the main cause of fouling. Instead, it's more likely that it's the transparent exopolymer particles (TEPs) that algae make. To make it easier to keep track of TEPs, a new method that can measure TEPs as small as 10 kDa was made. This method showed that TEPs could be removed effectively by UF pre-treatment before SWRO. This work also showed that even though TEPs and other algal-derived materials (AOM) are very sticky and can stick to UF and RO membranes, they can stick much better to AOM-covered membranes. Also, a model was made to predict the buildup of algal cells in capillary UF membranes. This showed that algal cells don't play as big of a role in UF fouling as AOM and TEPs.
This study shows that better analytical tools and methods are needed to determine how harmful algal blooms in seawater affect how membrane-based desalination plants work (UF-RO). It also showed how important it is to develop good pre-treatment processes to get rid of AOM in raw water and lower the risk of membrane fouling in the feed water for SWRO membranes.
Download Algal Blooms and Membrane-Based Desalination Technology PDF 
Author(s): Villacorte, Loreen Ople
Series: UNESCO-IHE Ph.D. Thesis
Publisher: CRC Press, Year: 2014
ISBN: 978-1-138-02626-1,1138026263
Related More Books