| | |
| --- | --- |
| Book Name: | [PDF] Amino Acids, Peptides and Proteins in Organic Chemistry, Volume 5 Analysis and Function of Amino Acids and Peptides by Hughes |
| Category: | Organic Chemistry |
| Free Download: | Available |
Amino Acids, Peptides and Proteins in Organic Chemistry, Volume 5 Analysis and Function of Amino Acids and Peptides by Hughes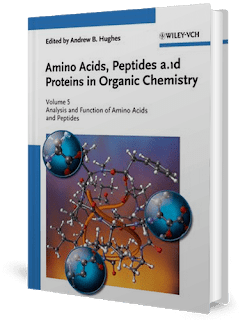 Wiley, 2012. – 510 p. – This is the last of five books in the Amino Acids, Peptides and Proteins in Organic Synthesis series. Closing a gap in the literature, this is the only series to cover this important topic in organic and biochemistry. Drawing upon the combined expertise of the international "who's who" in amino acid research, these volumes represent a real benchmark for amino acid chemistry, providing a comprehensive discussion of the occurrence, uses and applications of amino acids and, by extension, their polymeric forms, peptides and proteins.
The practical value of each volume is heightened by the inclusion of experimental procedures.
The 5 volumes cover the following topics:
Volume 1: Origins and Synthesis of Amino Acids
Volume 2: Modified Amino Acids, Organocatalysis and Enzymes
Volume 3: Building Blocks, Catalysis and Coupling Chemistry
Volume 4: Protection Reactions, Medicinal Chemistry, Combinatorial Synthesis
Volume 5: Analysis and Function of Amino Acids and Peptides
Volume 5 of this series presents a wealth of methods to analyze amino acids and peptides. Classical approaches are described, such as X-ray analysis, chromatographic methods, NMR, AFM, mass spectrometry and 2D-gel electrophoresis, as well as newer approaches, including Surface Plasmon Resonance and array technologies.
Originally planned as a six volume series, Amino Acids, Peptides and Proteins in Organic Chemistry now completes with five volumes but remains comprehensive in both scope and coverage.
| | |
| --- | --- |
| Title: | Amino Acids, Peptides and Proteins in Organic Chemistry, Volume 5 Analysis and Function of Amino Acids and Peptides |
| Editor: | Andrew B. Hughes |
| Volume: | 5th |
| Publisher: | Wiley – VCH |
| Length: | 510 pages |
| Size: | 7.34 MB |
| Language: | English |
Amino Acids, Peptides and Proteins in Organic Chemistry: Analysis and Function of Amino Acids and Peptides, Volume 5
Year: 2011
ISBN: 9783527321049
[PDF] Amino Acids, Peptides and Proteins in Organic Chemistry, Volume 5 Analysis and Function of Amino Acids and Peptides by Hughes Table Of Contents
Chapter 1 Mass Spectrometry of Amino Acids and Proteins (pages 1–50): Simin D. Maleknia and Richard Johnson
Chapter 2 X?Ray Structure Determination of Proteins and Peptides (pages 51–95): Andrew J. Fisher
Chapter 3 Nuclear Magnetic Resonance of Amino Acids, Peptides, and Proteins (pages 97–153): Andrea Bernini and Pierandrea Temussi
Chapter 4 Structure and Activity of N?Methylated Peptides (pages 155–166): Raymond S. Norton
Chapter 5 High?Performance Liquid Chromatography of Peptides and Proteins (pages 167–210): Reinhard I. Boysen and Milton T. W. Hearn
Chapter 6 Local Surface Plasmon Resonance and Electrochemical Biosensing Systems for Analyzing Functional Peptides (pages 211–223): Masato Saito and Eiichi Tamiya
Chapter 7 Surface Plasmon Resonance Spectroscopy in the Biosciences (pages 225–247): Jing Yuan, Yinqiu Wu and Marie?Isabel Aguilar
Chapter 8 Atomic Force Microscopy of Proteins (pages 249–276): Adam Mechler
Chapter 9 Solvent Interactions with Proteins and Other Macromolecules (pages 277–360): Satoshi Ohtake, Yoshiko Kita, Kouhei Tsumoto and Tsutomu Arakawa
Chapter 10 Role of Cysteine (pages 361–394): Lalla A. Ba, Torsten Burkholz, Thomas Schneider and Claus Jacob
Chapter 11 Role of Disulfide Bonds in Peptide and Protein Conformation (pages 395–417): Keith K. Khoo and Raymond S. Norton
Chapter 12 Quantitative Mass Spectrometry?Based Proteomics (pages 419–438): Shao?En Ong
Chapter 13 Two?Dimensional Gel Electrophoresis and Protein/Polypeptide Assignment (pages 439–462): Takashi Manabe and Ya Jin
Chapter 14 Bioinformatics Tools for Detecting Post?Translational Modifications in Mass Spectrometry Data (pages 463–475): Patricia M. Palagi, Erik Arhne, MarKus Muller and Frederique Lisacek
Related More Books