| | |
| --- | --- |
| Book Name: | [PDF] Analog Circuit Design Art Science and Personalities |
| Category: | Engineering Books |
| Free Download: | Available |
Analog Circuit Design Art Science and Personalities by Jim Williams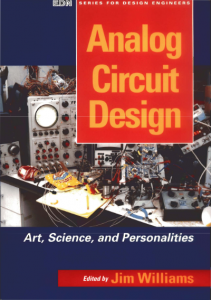 Analog Circuit Design Art Science and Personalities by Jim Williams Free PDF Book
Book Description:
This book is far more than just another tutorial or reference guide – it's a tour through the world of analog design, combining theory and applications with the philosophies behind the design process. Readers will learn how leading analog circuit designers approach problems and how they think about solutions to those problems. They'll also learn about the 'analog way' – a broad, flexible method of thinking about analog design tasks.A comprehensive and useful guide to analog theory and applications.Covers visualizing the operation of analog circuits.Looks at how to rapidly determine workable approximations of analog circuit parameters.
Contents of Analog Circuit Design PDF
Introduction
What is Analog Design?
The Making of an Analog Engineer
Intuitions and Insights
Techniques, Tips, and Applications
Preface to Analog Circuit Design PDF
This is a weird book. When I was asked to write it I refused, because I didn't believe anybody could, or should, try to explain how to do analog design.
Later, I decided the book might be possible, but only if it was written by many authors, each with their own style, topic, and opinions.
There should be an absolute minimum of editing, no subject or style requirements, no planned page count, no outline, no nothing!
I wanted the book's construction to reflect its subject. What I asked for was essentially a mandate for chaos. To my utter astonishment the publisher agreed and we lurched hopefully forward.
A meeting at my home in February 1989 was well-attended by potential participants. What we concluded went something like this:
everyone would go off and write about anything that could remotely be construed as relevant to analog design.
Additionally, no author would tell any other author what they were writing about.
The hope was that the reader would see many different styles and approaches to analog design, along with some commonalities.
Hopefully, this would lend courage to someone seeking to do analog work. There are many very different ways to proceed, and every designer has to find a way that feels right.
This evolution of a style, of getting to know oneself, is critical to doing good design. The single greatest asset a designer has is self-knowledge.
Knowing when your thinking feels right, and when you're trying to fool yourself. Recognizing when the design is where you want it to be, and when you're pretending it is because you're only human.
They should be made to feel comfortable experimenting and evolving their own methods. The risk in this book, that it will come across as an exercise in discord, is also its promise.
As it went together, I began to feel less nervous. People wrote about all kinds of things in all kinds of ways.
They had some very different views of the world. But also detectable were commonalities many found essential.
It is our hope that readers will see this somewhat discordant book as a reflection of the analog design process.
Get Free PDF Book : Analog Circuit Design Art Science and Personalities
Get Paper Book : Analog Circuit Design Art Science and Personalities
Analog Circuit Design: Art, Science and Personalities PDF
Author(s): Jim Williams
Series: EDN
Publisher: Butterworth-Heinemann
Year: 1991
ISBN: 9780750691666
Related Results : analog circuit design art science and personalities pdf,analog circuit design art science and personalities williams pdf,
Related More Books
See More POST On : Engineering Books