| | |
| --- | --- |
| Book Name: | [PDF] Analytical Chemistry, 7th Edition by Christian, Dasgupta and Schug |
| Category: | Analytical Chemistry |
| Free Download: | Available |
Analytical Chemistry, 7th Edition by Christian, Dasgupta and Schug : This seventh edition is extensively rewritten, offering new and updated material. The goal was to provide the student with a foundation of the analytical process, tools, and computational methods and resources, and to illustrate with problems that bring realism to the practice and importance of analytical chemistry. We take advantage of digital technologies to provide supplementary material, including videos, website materials, spreadsheet calculations, and so forth (more on these below). We introduce the chapters with examples of representative uses of a technique, what its unique capabilities may be, and indicate what techniques may be preferred or limited in scope. The beginning of each chapter lists key learning objectives for the chapter, with page numbers for specific objectives. This will help students focus on the core concepts as they read the chapter.
Here are some of the new things:
Professors Favorite Examples and Problems. We asked professors and practicing analytical chemists from around the world to suggest new analytical examples and problems, especially as they relate to real world practice, that we could include in this new edition. It is with appreciation and pleasure that we thank the many that have generously provided interesting and valuable examples and problems. We call these Professor's Favorite Examples, and Professor's Favorite Problems, and they are annotated within the text by a margin element . We have included these in the text where appropriate and as space allows, and have placed some on the text website. We hope you find these interesting and, as appropriate, are challenged by them.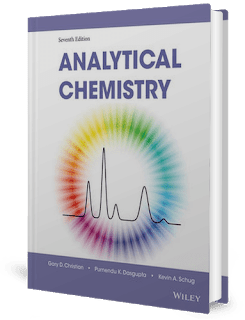 Analytical Chemistry, 7th Edition by Christian, Dasgupta and Schug
Title:

Analytical Chemistry, 7th Edition

Editor:

Gary D. Christian
Purnendu K. (Sandy) Dasgupta
Kevin A. Schug

Edition:

Seventh

Publisher:

Wiley Publications

Length:

850 pages

Size:

18.3 MB

Language:

English
Book Description:
The 7th Edition of Gary Christian's Analytical Chemistry focuses on more in-depth coverage and information about Quantitative Analysis (aka Analytical Chemistry) and related fields. The content builds upon previous editions with more enhanced content that deals with principles and techniques of quantitative analysis with more examples of analytical techniques drawn from areas such as clinical chemistry, life sciences, air and water pollution, and industrial analyses.
Table of Contents
Chapter 1: Analytical Objectives, or: What Analytical Chemists Do
Chapter 2: Basic Tools and Operations of Analytical Chemistry
Chapter 3: Statistics and Data Handling in Analytical Chemistry
Chapter 4: Good Laboratory Practice: Quality Assurance and Method Validation
Chapter 5: Stoichiometric Calculations: The Workhorse of the Analyst
Chapter 6: General Concepts of Chemical Equilibrium
Chapter 7: Acid-Base Equilibria
Chapter 8: Acid-Base Titrations
Chapter 9: Complexometric Reactions and Titrations
Chapter 10: Gravimetric Analysis and Precipitation Equilibria
Chapter 11: Precipitation Reactions and Titrations
Chapter 12: Electrochemical Cells and Electrode Potentials
Chapter 13: Potentiometric Electrodes and Potentiometry
Chapter 14: Redox and Potentiometric Titrations
Chapter 15: Voltammetry and Electrochemical Sensors
Chapter 16: Spectrochemical Methods
Chapter 17: Atomic Spectrometric Methods
Chapter 18: Sample Preparation: Solvent and Solid-Phase Extraction
Chapter 19: Chromatography: Principles and Theory
Chapter 20: Gas Chromatography
Chapter 21: Liquid Chromatography and Electrophoresis
Chapter 22: Mass Spectrometry
Chapter 23: Kinetic Methods of Analysis
Chapter 24: Automation in Measurements
Chapter 25: Clinical Chemistry
Chapter 26: Environmental Sampling and Analysis
Chapter G: Century of the Gene—Genomics and Proteomics: DNA Sequencing and Protein Profiling
Analytical Chemistry by G.D. Christian
APPENDIX D SAFETY IN THE LABORATORY
APPENDIX E PERIODIC TABLES ON THE WEB
Potentiometric Measurements
Reduction–Oxidation Titrations
Potentiometric Titrations
Spectro-chemical Measurements
Mass Spectrometry
Kinetic Analysis
Flow Injection Analysis
Team Experiments
Index
Analytical Chemistry, Student Solutions Manual
Analytical Chemistry
Author(s): Gary D. Christian, Purnendu K. Dasgupta, Kevin A. Schug
Publisher: John Wiley & Sons, Year: 2013
ISBN: 9780470887578
Related More Books