| | |
| --- | --- |
| Book Name: | [PDF] Asymmetric Dearomatization Reactions by Shu-Li You |
| Category: | Organic Chemistry |
| Free Download: | Available |
Asymmetric Dearomatization Reactions by Shu-Li You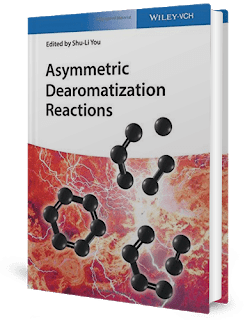 | | |
| --- | --- |
| Title: | Asymmetric Dearomatization reactions |
| Editor: | Shu-Li You |
| Edition: | 1st |
| Publisher: | Wiley – VCH |
| Length: | 422 pages |
| Size: | 14.6 MB |
| Language: | English |
Book Description:
The first comprehensive account of the rapidly growing field of asymmetric dearomatization reactions with a focus on catalytic methods.
It introduces the concept of dearomatization and describes recent progress in asymmetric reaction procedures with different catalyst systems, such as organocatalysts, transition metal catalysts, and enzymes. Chapters on dearomatizations of electron-deficient aromatic rings, dearomatization reactions via transition metal-catalyzed cross-couplings as well as dearomatization strategies in the synthesis of complex natural products are also included.
Written by pioneers in the field, this is a highly valuable source of information not only for professional synthetic chemists in academia and industry but also for all those are interested in asymmetric methodologies and organic synthesis in general.
Asymmetric dearomatization reactions
Author(s): You, Shu-Li
Publisher: Wiley-VCH, Year: 2016
ISBN: 3527338519
Related More Books