| | |
| --- | --- |
| Book Name: | [PDF] AutoCAD Civil 3D 2016 by Eric Chappell |
| Category: | Engineering Books |
| Free Download: | Available |
AutoCAD Civil 3D 2016 by Eric Chappell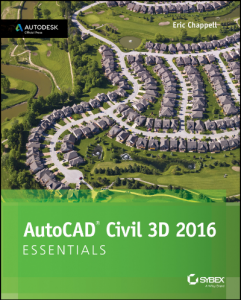 Introduction to AutoCAD® Civil 3D® 2016
When the first version of this book was born just over four years ago, my hope was for it to be one book in a long and successful series that would educate, inspire, and even excite many people about using the Autodesk® AutoCAD® Civil 3D® software.
In order to make that happen, I decided that each book in the series had to meet the following criteria:
 It should be basic enough to enable anyone to learn Civil 3D.
 It should be in-depth enough to enable a person to be productive using Civil 3D for basic tasks.
 It should foster understanding by associating the things you do in Civil 3D with familiar things you see every day.
 The examples and exercises should be based on the real world.
 The book should not simply demonstrate random software features but should also teach the process of project completion using Civil 3D.
Since the first version of the book was released, I have received tons of great feedback about how well this book functions in many learning environments.
I have also used the book myself to teach classes in a corporate environment, and I am very pleased with how it performs.
Download Free PDF Book : AutoCAD Civil 3D 2016 by Eric Chappell
Get Paper Book : AutoCAD Civil 3D 2016 by Eric Chappell
AutoCAD Civil 3D 2016 Essentials: Autodesk Official Press PDF
Author(s): Eric Chappell
Publisher: Sybex, Year: 2015
ISBN: 1119059593
Related More Books
See More POST On : Engineering Books