| | |
| --- | --- |
| Book Name: | [PDF] BASIC ELECTRICAL ENGINEERING By V.K.Mehta S.Chand |
| Category: | Electrical books ( EE ) |
| Free Download: | Available |
BASIC ELECTRICAL ENGINEERING By V.K.Mehta S.Chand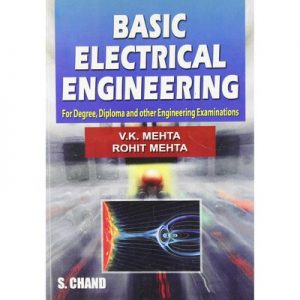 BASIC ELECTRICAL ENGINEERING V.K.Mehta (Best Book for Electrical Basics)
Book Description:
The general response to the Fifth Edition of the book was very encouraging. Authors feel that their work has been amply rewarded and wish to express their deep sense of gratitude to the large number of readers who have used it and in particular to those of them who have sent helpful suggestions from time to time for the improvement of the book.
The popularity of the book is judged from the fact that authors frequently receive feedback from many quarters including teachers, students and serving engineers. This feedback helps the authors to make the book up-to-date. In the present edition, many new topics/numericals/illustrations have been added to make the book more useful.
Authors lay no claim to the original research in preparing the book. Liberal use of materials available in the works of eminent authors has been made. What they may claim, in all modesty, is that they have tried to fashion the vast amount of material available from primary and secondary sources into coherent body of description and analysis.
Total Book Pages: 500
Basic Electrical Engineering VK Mehta PDF Free Download Link available at the End of Article.
Book Contents:
Basic Concepts
D.C. Circuits
D.C. Network Theorems
Units—Work, Power and Energy
Electrostatics
Capacitance and Capacitors
Magnetic Circuits
Electromagnetic Induction
Chemical Effects of Electric Current
Magnetism and Electromagnetism
BASIC ELECTRICAL ENGINEERING By S.Chand Book
Currently third party Downloading link (not uploaded by freepdfbook.com) is removed due to copyright infringement material, Our site does not support to share this of material.
Support to Author by Buying Paperbook from link given below…
Original Link of Material :
https://www.schandpublishing.com/books/tech-professional/electrical-engineering-electronics/basic-electrical-engineering/9788121908719/
Basic Electrical Engineering PDF
Author(s): V. K. Mehta, Rohit Mehta
Publisher: S Chand, Year: 2017
Related Results : BASIC ELECTRICAL ENGINEERING Book,basic electrical engineering book by v k mehta,BASIC ELECTRICAL ENGINEERING By S.Chand Book,BASIC ELECTRICAL ENGINEERING By V.K.Mehta,basic electrical engineering v k mehta pdfbasic electrical engineering v k mehta pdf download,
Related More Books
See More POST On : Engineering Books