| | |
| --- | --- |
| Book Name: | [PDF] Biflavanoids – Chemical and Pharmacological Aspects by Shabir Hussain Lone and Mohd. Akbar Khuroo |
| Category: | Organic Chemistry |
| Free Download: | Available |
Biflavanoids – Chemical and Pharmacological Aspects by Shabir Hussain Lone and Mohd. Akbar Khuroo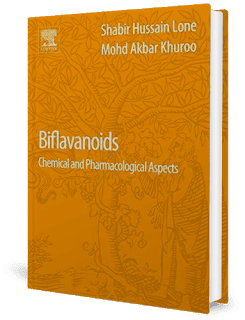 Book Description:
Biflavanoids are an important class of plant metabolites offering a range of activities, good availability and relatively low toxicity. Long thought to hold possible therapeutic potential, the recent surge in interest for natural product drug discovery has further highlighted the possibility of using them in the discovery of new drugs, and Biflavanoids: Chemical and Pharmacological Aspects provides a quick reference to the area in a focused manner, to support and encourage further research.
Beginning with a focus on the structural features and occurrence of biflavanoids, Chapter 1 reviews key background information including notes on nomenclature and natural distribution. Chapter 2 then goes on to discuss methods for identification and isolation, with separation and purification using various chromatography methods reviewed, followed by identification via UV spectroscopy, NRM spectroscopy and mass spectrometry. Synthesis is the focus of Chapter 3, with a broad range of synthetic methods outlined, before the book concludes in Chapter 4 by describing the biochemical pharmacology of Biflavanoids and their anticancer, antimicrobial, antiviral, anti-inflammatory and analgesic activity.
With its discussion of both the underlying chemistry and biological activity of Biflavanoids, Biflavanoids: Chemical and Pharmacological Aspects is a concise guide to this important class of compounds for all those working in the fields of medicinal chemistry and natural products drug discovery.
Focused coverage of techniques for the isolation, identification, and synthesis of Biflavanoids
Practical tool for researchers working with these flavonoid compounds
Real-world expertise from the authors provides support for further developments in the growing field of natural product drug discovery
Useful, clear illustrations of key structures throughout the text
Title:

Biflavanoids – Chemical and Pharmacological Aspects

Editor:

Shabir Hussain Lone
Mohd Akbar Khuroo

Edition:

Illustrated

Publisher:

Elsevier Publications

Length:

48 pages

Size:

2.89 MB

Language:

English
Book Content:
Front-matter,CopyrightEntitled to full textChapter 1 – Structural Features and Occurrence of Biflavanoids, Pages 1-8
Chapter 2 – Isolation and Identification of Biflavanoids, Pages 9-22
Chapter 3 – Synthesis of Biflavanoids, Pages 23-36
Chapter 4 – Biochemical Pharmacology of Biflavanoids, Pages 37-45
Biflavanoids. Chemical and Pharmacological Aspects
Author(s): Shabir Hussain Lone, Mohd Akbar Khuroo
Publisher: Elsevier, Year: 2016
ISBN: 0081010303
Related More Books