| | |
| --- | --- |
| Book Name: | [PDF] Cambridge International AS and A Level Biology by C.J Clegg |
| Free Download: | Available |
Cambridge International AS and A Level Biology by C.J Clegg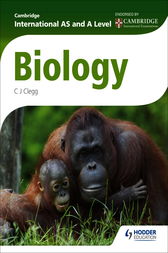 Title :         Cambridge International AS and A Level Biology
Editor :        C.J Clegg
Edition :       N/A
Publisher :     Hodder Education
Length :        529 pages
Size :          83 MB
Book Description:
This title covers the entire syllabus for Cambridge International Examinations' International AS and A Level Biology (9700). It is divided into separate sections for AS and A Level making it ideal for students studying both the AS and the A Level and also those taking the AS examinations at the end of their first year.
– Explains difficult concepts using language that is appropriate for students around the world
– Provides practice throughout the course with carefully selected past paper questions at the end of each chapter
– Lets students work through problems at their own pace, with a free Revision and practice CD which includes interactive tests, a summary of teach topic, additional activities, a list of useful websites and key terms
– Answers to questions in the Student's Book can be found on the Teacher's CD
We are working with Cambridge International Examinations to gain endorsement for this title.
Confidently navigate the updated Cambridge International AS & A Level Biology (9700) syllabus with a structured approach ensuring that the link between theory and practice is consolidated, scientific skills are applied, and analytical skills developed.
– Enable students to monitor and build progress with short 'self-assessment' questions throughout the student text, with answers at the back of the book, so students can check their understanding as they work their way through the chapters.
– Build scientific communication skills and vocabulary in written responses with a variety of exam-style questions.
– Encourage understanding of historical context and scientific applications with extension boxes in the student text.
– Have confidence that lessons cover the syllabus completely with a free Scheme of Work available online.
– Provide additional practice with the accompanying write-in Practical Skills Workbooks, which once completed, can also be used to recap learning for revision.
Table of contents :
Cover
Book title
Contents
Introduction
AS Level
1 Cell structure
1.1 The microscope in cell studies
1.2 Cells as the basic units of living organisms
2 Biological molecules
2.1 Testing for biological molecules
2.2 Carbohydrates and lipids
2.3 Proteins and water
3 Enzymes
3.1 Mode of action of enzymes
3.2 Factors that affect enzyme action
4 Cell membranes and transport
4.1 Fluid mosaic membranes
4.2 Movement of substances into and out of cells
5 The mitotic cell cycle
5.1 Replication and division of nuclei and cells
5.2 Chromosome behaviour in mitosis
6 Nucleic acids and protein synthesis
6.1 Structure and replication of DNA
6.2 Protein synthesis
7 Transport in plants
7.1 Structure of transport tissues
7.2 Transport mechanisms
8 Transport in mammals
8.1 The circulatory system
8.2 The heart
9 Gas exchange and smoking
9.1 The gas exchange system
9.2 Smoking
10 Infectious disease
10.1 Infectious diseases
10.2 Antibiotics
11 Immunity
11.1 The immune system
11.2 Antibodies and vaccination
A Level
12 Energy and respiration
12.1 Energy
12.2 Respiration
13 Photosynthesis
13.1 Photosynthesis as an energy transfer process
13.2 Investigation of limiting factors
13.3 Adaptations for photosynthesis
14 Homeostasis
14.1 Homeostasis in mammals
14.2 Homeostasis in plants
15 Control and co-ordination
15.1 Control and co-ordination in mammals
15.2 Control and co-ordination in plants
16 Inherited change
16.1 Passage of information from parent to offspring
16.2 The roles of genes in determining the phenotype
16.3 Gene control
17 Selection and evolution
17.1 Variation
17.2 Natural and artificial selection
17.3 Evolution
18 Biodiversity, classification and conservation
18.1 Biodiversity
18.2 Classification
18.3 Conservation
19 Genetic technology
19.1 Principles of genetic technology
19.2 Genetic technology applied to medicine
19.3 Genetically modified organisms in agriculture
Answers to self-assessment questions
Cambridge International AS and A Level Biology
Author(s): C. J. Clegg
Publisher: Hodder Education, Year: 2014
ISBN: 9781444175349
Download Cambridge International AS and A Level Biology by C.J Clegg Free
Related Results : biology in context for cambridge international as and a level,cambridge international a level biology grade boundaries,cambridge international a level biology specification,cambridge international as & a level biology practical teacher's guide,cambridge international as and a level biology 5th editioncambridge international as and a level biology 9700,
Related More Books