| | |
| --- | --- |
| Book Name: | [PDF] Earthquake Geotechnical Case Histories for Performance Based Design |
| Category: | Civil Engineering Books |
| Free Download: | Available |
Earthquake Geotechnical Case Histories for Performance Based Design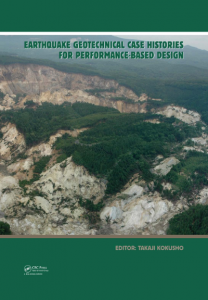 Earthquake Geotechnical Case Histories for Performance Based Design | PDF Free
Main Contents of Earthquake Geotechnical PDF
Geo-technical performance of the Kashiwazaki Kariwa Nuclear Power Station
large-scale rock slide-debris avalanche in Leyte Island, Philippines
Slope failures during the 2004 Niigataken Chuetsu earthquake in Japan
Slump failure of highway embankments during the 2004 Niigataken Chuetsu earthquake
Fill slope failure of the Takamachi housing complex in the 2004 Niigataken Chuetsu earthquake
Quay wall displacements and deformation of reclaimed land during recent large earthquakes in Japan
River dike failures during the 1993 Kushiro-oki earthquake and the 2003 Tokachi-oki earthquake
Ground failures and their effects on structures in Midorigaoka district, Japan during recent successive earthquakes
Tsukidate failure compared with the other flow-type failure during 2003 earthquakes in Northern Japan
Case histories of pile foundation subjected to ground displacements in the 1995 Hyogoken-Nambu earthquake
Observed seismic behavior of three Chilean large dams
Liquefaction-induced flow slide in the collapsible loess deposit
Preface to Earthquake Geotechnical PDF
Performance-Based Design (PBD) is increasingly employed recently in structural design of buildings and infrastructural facilities in many countries.
However, PBD has not yet been established sufficiently in geotechnical engineering practice.
Seismically induced ground deformation essential to performance design is not easy to evaluate mainly because, in contrast to superstructures.
The ground is a 3-dimensional continuum with tremendous spatial variability and its stress-strain relationship is strongly nonlinear with dilatancy effect.
A rapid development and establishment of practical and reliable PBD is thus needed not only for foundation design but also for superstructures resting on incompetent soils.
It is particularly true under circumstances where seismic ground motions observed during recent destructive earthquakes are getting larger.
Such large motions often lead to intolerable results of foundation ground and superstructures resting on it, if they are designed by the conventional limit design methodologies.
Get Paper Book: Earthquake Geotechnical Case Histories for Performance Based Design
Earthquake geotechnical case histories for performance-based design PDF
Author(s): Takaji Kokusho
Publisher: CRC , Year: 2009
ISBN: 9781439856581
Download Free PDF Book:  Earthquake Geotechnical Case Histories for Performance Based Design
Related More Books
See More POST On : Engineering Books