| | |
| --- | --- |
| Book Name: | Engineering in Plain Sight |
| Category: | |
| Language: | English |
| Format: | PDF |
| Free Download: | Available |
Free Download Engineering in Plain Sight: An Illustrated Field Guide to the Constructed Environment PDF Book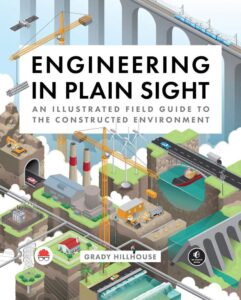 Book Description: 
Engineering in Plain Sight is a field guide with beautiful pictures and easy-to-understand explanations for almost every part of the built world around us.
Grady Hillhouse is the creator of the popular YouTube channel Practical Engineering, which has 2.7 million subscribers. This book is basically 50 new episodes crammed between two covers.
Engineering in Plain Sight adds man-made structures to the field guide genre, making them easier for people who aren't engineers to understand. It changes the way people think about the built environment, making looking at infrastructure something fun and exciting to do every day.
This easy-to-read, informative book is full of colorful pictures that show the fascinating details of how the world we made works. This book is a great thing to take with you on a road trip because it gives you a new way to look at parts of the environment that usually blend into the background. Readers will learn to recognize parts of the electrical grid, roads, railroads, bridges, tunnels, waterways, and more. Engineering in Plain Sight makes people curious, interested, and involved in how the infrastructure around them is made.
Table of contents :
TITLE PAGE
COPYRIGHT
DEDICATION
INTRODUCTION
CHAPTER 1: ELECTRICAL GRID
Overview of the Electrical Grid
Thermal Power Stations
Wind Farms
Transmission Towers
Transmission Line Components
Substations
Substation Equipment
Typical Utility Pole
Electrical Distribution Equipment
CHAPTER 2: COMMUNICATIONS
Overhead Telecommunications
Underground Telecommunications
Radio Antenna Towers
Satellite Communications
Cellular Communications
Chapter 3: Roadways
Urban Arterial and Collector Roads
Pedestrian and Bicycle Infrastructure
Traffic Signals
Traffic Signs and Markings
Highway Earthwork and Retaining Walls
Typical Highway Section
Typical Highway Layout
Interchanges
CHAPTER 4: BRIDGES AND TUNNELS
Types of Bridges
Typical Bridge Section
Overview of Tunnels
Tunnel Cross Section
CHAPTER 5: RAILWAYS
Railroad Tracks
Switches and Signals
Grade Crossings
Electrified Railways
CHAPTER ‌6: DAMS, LEVEES, AND COASTAL STRUCTURES
Shore Protection Structures
Ports
Locks
Levees and Floodwalls
Concrete Dams
Embankment Dams
Spillways and Outlet Works
CHAPTER ‌7: MUNICIPAL WATER AND WASTEWATER
Intakes and Pumping Stations
Wells
Transmission Pipelines and Aqueducts
Water Treatment Plants
Water Distribution Systems
Water Towers and Tanks
Sanitary Sewers and Lift Stations
Wastewater Treatment Plants
Stormwater Collection
CHAPTER 8: CONSTRUCTION
Typical Construction Site
Cranes
Construction Machines
ACKNOWLEDGMENTS
GLOSSARY
INDEX
Download Engineering in Plain Sight: An Illustrated Field Guide to the Constructed Environment PDF 
Author(s): Grady Hillhouse
Publisher: No Starch Press, Year: 2022
ISBN: 171850232X,9781718502321