| | |
| --- | --- |
| Book Name: | [PDF] The High Speed Internal Combustion Engine |
| Category: | IC Engine |
| Free Download: | Available |
The High Speed Internal Combustion Engine PDF Book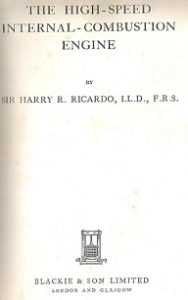 Preface to New Edition
The present volume is a revised and somewhat extended edition of Vol. II of The Internal-Combustion Engine published in 1923.
During the seven years which have elapsed since the above volume was published progress has been considerable; it has, however, for the most part taken the form of improving and consolidating existing orthodox design, and the only important new development which has arisen during this period is the achievement of the high-speed Diesel.
Since progress has, to a large extent, followed along the lines foreshadowed in the original volume, and since also this volume dealt mainly with general principles rather than specific designs, there has been little need for actual revision. The present volume therefore contains additions rather than alterations, and a new chapter has been added dealing with the high-speed Diesel engine.
Contents
Introduction
Volatile Liquid Fuel for Internal-combustion Engines
Detonation
Distribution of Heat in a High-Speed Four-Cycle Engine
Influence of Form of Combustion Chamber
Lubrication and Bearing Wear
Mechanical Design
Mechanical Details
Valves and Valve Gear
Piston Design
Engines for Road Vehicles
Aero-engines
High-Speed Heavy-Duty Engines for Tanks
High-speed Diesel Engines
Index
The High Speed Internal-Combustion Engine is an authoritative book by one of the pioneers of I.C. engine development was last published in 1941, and included work on fuels and developments in mechanical design, in addition to the well-established chapters on diesel and gasoline combustion, and components.
Title: The High-Speed Internal-Combustion Engine
Publisher: Blackie & Son Ltd.
Publication Date: 1941
Binding: gebundene Ausgabe
Related Results : first high speed internal combustion engine,High Speed IC Engine,Internal Combustion Engine ebook download,sir harry ricardo's work the high speed internal combustion engine,the high speed internal combustion enginethe high speed internal combustion engine by sir harry ricardo pdf,
Related More Books
See More POST On : Engineering Books