| | |
| --- | --- |
| Book Name: | Microbiology of Drinking Water Production and Distribution |
| Category: | Civil Engineering Books |
| Language: | English |
| Format: | PDF |
| Free Download: | Available |
Free Download Microbiology of Drinking Water Production and Distribution PDF Book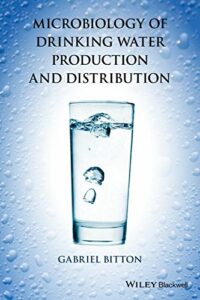 Book Description:
Microbiology of Drinking Water Production and Distribution talks about how water is treated and where it goes from a public health point of view. It discusses cleaning water through pretreatment, coagulation, flocculation, sedimentation, filtration, and disinfection. It also talks about how these processes affect microbial pathogens and parasites found in water.
Drinking water quality may worsen in water distribution systems because microorganisms make biofilms that help them grow. Different ways have been suggested to determine how likely bacteria will grow in water distribution systems.
Microbiology of Drinking Water Production and Distribution also puts drinking water quality and public health issues in context. It talks about how bioterrorism affects the safety of drinking water, especially the precautions in place to protect people from the microorganisms involved. The text also talks about research on the quality of drinking water in developing countries and the low-cost ways to treat water that could save lives. The text also looks at bottled water's microbiological quality, which most people don't understand.
Download Microbiology of Drinking Water Production and Distribution PDF 
Author(s): Gabriel Bitton
Publisher: Wiley-Blackwell, Year: 2014
ISBN: 111874392X,9781118743928
Related More Books