| | |
| --- | --- |
| Book Name: | [PDF] Oxygen – The molecule that made the world by Nick Lane |
| Free Download: | Available |
Oxygen – The molecule that made the world by Nick Lane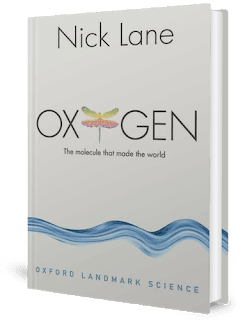 Title: Oxygen – The molecule that made the world
Editor: Nick Lane
Publisher  : Oxford University Press
Length: 563 pages
Size: 2.11 MB
Language: English
Book Description:
Oxygen has had extraordinary effects on life.
Three hundred million years ago, in Carboniferous times, dragonflies grew as big as seagulls, with wingspans of
nearly a metre. Researchers claim they could have flown only if the air had contained more oxygen than today –
probably as much as 35 per cent. Giant spiders, tree-ferns, marine rock formations and fossil charcoals
all tell the same story. High oxygen levels may also explain the global firestorm that contributed to the
demise of the dinosaurs after the asteroid impact.
The strange and profound effects that oxygen has had on the evolution of life pose a riddle, which this book.
Table of contents :
Cover
Contents
1 Introduction: Elixir of Life — and Death
2 In the Beginning: The Origins and Importance of Oxygen
3 Silence of the Aeons: Three Billion Years of Microbial Evolution
4 Fuse to the Cambrian Explosion: Snowball Earth, Environmental Change and the First Animals
5 The Bolsover Dragonfly: Oxygen and the Rise of the Giants
6 Treachery in the Air: Oxygen Poisoning and X-Irradiation: A Mechanism in Common
7 Green Planet: Radiation and the Evolution of Photosynthesis
8 Looking for LUCA: Last Ancestor in an Age Before Oxygen
9 Portrait of a Paradox: Vitamin C and the Many Faces of an Antioxidant
10 The Antioxidant Machine: A Hundred and One Ways of Living with Oxygen
11 Sex and the Art of Bodily Maintenance: Trade-offs in the Evolution of Ageing
12 Eat! Or You'll Live Forever: The Triangle of Food, Sex and Longevity
13 Gender Bender: The Rate of Living and the Need for Sexes
14 Beyond Genes and Destiny: The Double-Agent Theory of Ageing and Disease
15 Life, Death and Oxygen: Lessons From Evolution on the Future of Ageing
Further Reading
Glossary
Index
Oxygen: The Molecule that Made the World PDF
Author(s): Nick Lane
Series: Popular Science
Publisher: Oxford University Press, USA
Year: 2004
ISBN: 9780198607830
Related Results : nick lane oxygen,nick lane oxygen review,nick lane oxygen the molecule that made the world,oxygen book nick lane,oxygen by nick laneoxygen nick lane pdf,
Related More Books