| | |
| --- | --- |
| Book Name: | [PDF] Philip's Atlas of the Universe, Revised Edition by Sir Patrick Moore |
| Free Download: | Available |
Philip's Atlas of the Universe, Revised Edition by Sir Patrick Moore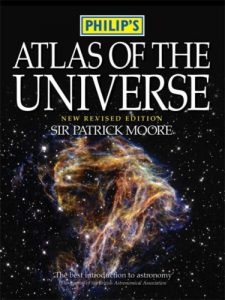 Book Description:
The great Sir Patrick Moore has done more to popularize astronomy and to explain the mysteries of the universe to us mortals than probably any other professional astronomer in history. I was weaned on his books as a junior high school student back in the mid 60s, and I continued to be a fan of his books for the next two decades, minoring in astronomy in college partly as a result of his influence (back in the days when no-one bothered to minor in things :-)).
This book is an updated version of his original book from 1970. It includes the Voyager photos of the planets and their moons that benefitted from those probes and with additional text discussing those developments. Revised material on deep space objects like galaxies and quasars is also included, since much as been learned in the past 30 years on those topics, as well as on cosmology in general.
Moore's prose reminds me of the old days of reading his books, as it hasn't changed much in 40 years. It may sound a little old-fashioned stylistically to today's ears but there is no better writer and explainer on the subject of astronomy today just as he was 40 years ago. I'm glad to find Moore is still working, and also, I noted he's been knighted in the intervening years since I last read any of his books. Here's to Moore and his contribution to science writing and to bringing astronomy to the masses.
Title:   Philip's Atlas of the Universe
Editor:  SIR PATRICK MOORE
Edition:  Revised Edition
Publisher : Philip's Publishing
Length: 285 pages
Size: 53  MB
Language: English
PDF
Related More Books