| | |
| --- | --- |
| Book Name: | Soil Strength and Slope Stability |
| Category: | Civil Engineering Books |
| Language: | English |
| Format: | PDF |
| Free Download: | Available |
Free Download Soil Strength and Slope Stability PDF Book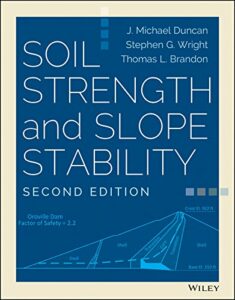 Book Description:
The best book on the critical topic of slope safety and stability Soil Strength and Slope Stability, Second Edition, shows the most up-to-date ideas and methods for evaluating natural and man-made slopes and the things that make them stay stable or fall apart. Using clear, concise language and real-world examples, the book shows how slopes and embankments can be used in geotechnical engineering. The new second edition goes into detail about how to use analysis software. It gives the background information needed to understand what the software is doing and gives several manual analysis methods that can be used to check software results. The book also has a new case study about what went wrong at 17th Street and London Avenue Canal because of Hurricane Katrina and other case studies that show how the principles and techniques are used.
Slope stability is a vital part of geotechnical engineering and every civil engineering project, especially the construction of roads. Soil Strength and Slope Stability fills a gap in the industry's literature by giving practical information on the subject without including unnecessary theories that might take away from the application. This approach strikes a good balance between giving clear advice to professionals in the field and being thorough enough to be used as a graduate-level text. Topics include:
Mechanics of soil and limit equilibrium procedures
Analyzing slope stability, rapid drawdown, and partial consolidation
Safety, reliability, and stability analyses
Reinforced slopes, stabilization, and repair
The book also gives examples and causes of slope failure and stability conditions that can be used for analysis. It also has an appendix with charts that show how stable a slope is. Since slope stability is vital to people's safety, a complete resource for analyzing and taking action is a valuable tool. Soil Strength and Slope Stability are the best books on the subject. They can be used in the classroom and out in the field.
Download Soil Strength and Slope Stability PDF 
Author(s): J. Michael Duncan, Stephen G. Wright, Thomas L. Brandon
Publisher: Wiley, Year: 2014
ISBN: 1118651650,9781118651650
Related More Books