| | |
| --- | --- |
| Book Name: | [PDF] The Chemistry of Benzotriazole Derivatives – A Tribute to Alan Roy Katritzky |
| Category: | Organic Chemistry |
| Free Download: | Available |
The Chemistry of Benzotriazole Derivatives – A Tribute to Alan Roy Katritzky :: Each chapter within this volume critically surveys the applications of benzotriazole derivatives in a variety of important synthetic applications ranging from heterocyclic chemistry to peptide constructs. The most significant developments and concepts in benzotriazole methodology are presented using selected examples. Each chapter is designed to provide the non-specialist reader with all the important concepts and methodology that led to the development of a general benzotriazole methodology. Beyond the concepts and important developments, these contributions also offer an outlook on potential future developments in benzotriazole chemistry. Chapter "Preparation, Reactivity, and Synthetic Utility of Simple Benzotriazole Derivatives" introduces the reader with the specific reactivity of benzotriazole and its simple derivatives. The preparation, synthetic properties and applications of a representative set of important and versatile benzotriazole derivatives are illustrated. Chapter "Acylbenzotriazoles: New Allies for Short Linear and Cyclic Peptide Constructs" gathers the most important advances in the preparation and use of acylbenzotriazole derivatives for the preparation of oligopeptide constructs. Chapter "Benzotriazole-Based Strategies Towards Peptidomimetics, Conjugates and Other Peptide Derivatives" extends the discussion on the versatility of acylbenzotriazole derivatives towards the preparation of peptidomimetics, conjugates and other peptide derivatives. Chapter "Benzotriazole-Mediated Synthesis of Oxygen Containing Heterocycles" discusses benzotriazole-mediated strategies towards oxygen-containing heterocycles, and Chapter "Benzotriazole-Mediated Synthesis of Nitrogen Containing Heterocycles" reviews benzotriazolemediated strategies towards nitrogen-containing heterocycles. Last but not least, Chapter "Benzotriazole: Much More Than Just Synthetic Heterocyclic Chemistry" regroups various applications of benzotriazole and its derivatives to medicinal chemistry and materials sciences.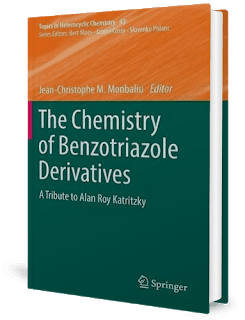 The Chemistry of Benzotriazole Derivatives – A Tribute to Alan Roy Katritzky
| | |
| --- | --- |
| Title: | The Chemistry of Benzotriazole Derivatives – A Tribute to Alan Roy Katritzky |
| Editor: | Jean-Christophe M. Monbaliu |
| Edition: | Topics in Heterocyclic Chemistry 43 |
| Publisher: | Springer Publications |
| Length: | 298 pages |
| Size: | 25.2 MB |
| Language: | English |
Book Description:
The series Topics in Heterocyclic Chemistry presents critical reviews on present and future trends in the research of heterocyclic compounds. Overall the scope is to cover topics dealing with all areas within heterocyclic chemistry, both experimental and theoretical, of interest to the general heterocyclic chemistry community. The series consists of topic related volumes edited by renowned editors with contributions of experts in the field. All chapters from Topics in Heterocyclic Chemistry are published Online First with an individual DOI. In references, Topics in Heterocyclic Chemistry is abbreviated as Top Heterocycl Chem and cited as a journal.
The Chemistry of Benzotriazole Derivatives: A Tribute to Alan Roy Katritzky
Author(s): Jean-Christophe M. Monbaliu (eds.)
Series: Topics in Heterocyclic Chemistry 43
Publisher: Springer International Publishing, Year: 2016
ISBN: 978-3-319-31552-2
[PDF] The Chemistry of Benzotriazole Derivatives – A Tribute to Alan Roy Katritzky Table Of Contents
Front Matter….Pages i-xi
Preparation, Reactivity, and Synthetic Utility of Simple Benzotriazole Derivatives….Pages 1-66
Acylbenzotriazoles: New Allies for Short Linear and Cyclic Peptide Constructs….Pages 67-94
Benzotriazole-Based Strategies Toward Peptidomimetics, Conjugates, and Other Peptide Derivatives….Pages 95-141
Benzotriazole-Mediated Synthesis of Oxygen-Containing Heterocycles….Pages 143-175
Benzotriazole-Mediated Synthesis of Nitrogen-Containing Heterocycles….Pages 177-234
Benzotriazole: Much More Than Just Synthetic Heterocyclic Chemistry….Pages 235-283
Back Matter….Pages 285-289
Related More Books