| | |
| --- | --- |
| Book Name: | [PDF] The Origin and Evolution of the Solar System by Woolfson |
| Category: | Physics Books |
| Free Download: | Available |
The Origin and Evolution of the Solar System by Woolfson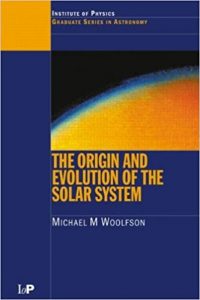 Book Description:
The origin of the solar system has been a matter of speculation for many centuries, and since the time of Newton it has been possible to apply scientific principles to the problem. A succession of theories, starting with that of Pierre Laplace in 1796, has gained general acceptance, only to fall from favor due to its contradiction in some basic scientific principle or new heavenly observation. Modern observations by spacecraft of the solar system, the stars, and extra-solar planetary systems continuously provide new information that may be helpful in finding a plausible theory as well as present new constraints for any such theory to satisfy.
The Origin and Evolution of the Solar System begins by describing historical (pre-1950) theories and illustrating why they became unacceptable. The main part of the book critically examines five extant theories, including the current paradigm, the solar nebula theory, to determine how well they fit with accepted scientific principles and observations. This analysis shows that the solar nebula theory satisfies the principles and observational constraints no better than its predecessors. The capture theory put forward by the author fares better and also indicates an initial scenario leading to a causal series of events that explain all the major features of the solar system
Title:                The Origin and Evolution of the Solar System
Editor:             M M Woolfson
Edition             N/A
Publisher  :      IOP (Institute of Physics)
Length:            426 pages
Size:                 5.76 MB
Language:         English
[PDF] The Origin and Evolution of the Solar System by Woolfson Table Of Contents
Part 1 The general background: The structure of the solar system. Observations and theories of star formation. What should a theory explain?
Part 2 Setting the theoretical scene: Theories up to 1960.
Part 3 Current theories: A brief survey of modern theories. The Sun, planets and satellites. Planetary orbits and angular momentum. A planetary collision. The Moon. Smaller planets and irregular satellites. Asteroids, meteorites and comets.
Part 4 The current state of theories: Comparisons of the main theories. Appendices.
Related More Books