| | |
| --- | --- |
| Book Name: | Total Facility Management |
| Category: | Civil Engineering Books |
| Language: | English |
| Format: | PDF |
| Free Download: | Available |
Free Download Total Facility Management PDF Book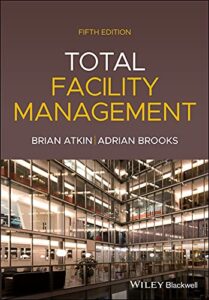 Book Description: 
A complete look at what facility management means to owners, operators, people who use the building, facility managers, and professional advisors.
The Fifth Edition of Total Facility Management, which has just been updated, is an easy-to-read and helpful book that shows how the idea and principles of facility management can be used in real life. The book talks about the most common and complex problems that professionals, academics, and students in the field face and gives real-world solutions and the tools to put them into action.
The new edition pays more attention to ISO standards that can be used in facility management and keep an international perspective. The book has easy-to-read advice on how to better manage facilities from many different points of view, and the topics it covers give a complete look at facility management.
The following will be helpful to readers:
A thorough introduction to the basics of facility management, including key roles, responsibilities, and accountability, as well as the core competencies of facility management.
A look at facility planning, facility management strategy, outsourcing, procurement, facility management organization, facility maintenance management, and business continuity and recovery planning.
A look at how human resources are managed, how well people are doing at work, how well performance is managed, and health, safety, security, and the environment.
A look at sustainable practices, change management, facility management systems, information management (including building information models and digital twins), and new technology.
This book is perfect for undergraduate and graduate studies in facility management, construction management, project management, surveying, and other AEC fields. Total Facility Management will also find a place on the desks of facility managers and in the libraries of academics and researchers whose jobs require them to understand both the theory and practice of facility management.
People generally agree that effective facility management is essential for organizations to work well. The fourth edition of Total Facility Management explains what facility management means to owners, operators, tenants, facility managers, and professional advisors. It also advises on how facilities can be better managed from several different points of view. It combines the best practices already in place, defines and develops new areas, and shows how facility management can grow.
Several national and international standards now help the body of knowledge about facility management. None of these standards existed when earlier editions of the book were written. This new edition's structure and content have been changed to align with these standards and give readers and their organizations a complete look at the subject. More attention has been paid to facility planning, especially the briefing stage in the design of a new or remodeled facility, design for operability, stakeholder management, outsourcing, procurement, transition, performance management, environmental management, sustainability, maintenance management, information management, and building information modeling (BIM). The book emphasizes the connections between facility management and an organization's business goals.
This fourth edition is a valuable and thought-provoking mix of the theory and practice of facility management. It will be read all over the world.
Download Total Facility Management PDF 
Author(s): Brian Atkin; Adrian Brooks
Publisher: Wiley-Blackwell, Year: 2014
ISBN: 1118655451,9781118655450
Related More Books