| | |
| --- | --- |
| Book Name: | [PDF] Young India by Lala Lajpat Rai |
| Category: | A Special Books |
| Free Download: | Available |
Young India: AN INTERPRETATION AND A HISTORY OF THE NATIONALIST MOVEMENT FROM WITHIN by Lala Lajpat Rai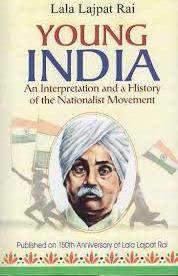 Young India by Lala Lajpat Rai
In this book Lala Lajpat Rai describes the political situation of the country as it was in 1915 and a history of freedom struggle before 1915. This book is very helpful in understanding true nature and contribution of different freedom fighters of India.
This work has been selected by scholars as being culturally important, and is part of the knowledge base of civilization as we know it. This work was reproduced from the original artifact, and remains as true to the original work as possible. Therefore, you will see the original copyright references, library stamps (as most of these works have been housed in our most important libraries around the world), and other notations in the work. This work is in the public domain in the United States of America, and possibly other nations. Within the United States, you may freely copy and distribute this work, as no entity (individual or corporate) has a copyright on the body of the work.As a reproduction of a historical artifact, this work may contain missing or blurred pages, poor pictures, errant marks, etc. Scholars believe, and we concur, that this work is important enough to be preserved, reproduced, and made generally available to the public. We appreciate your support of the preservation process, and thank you for being an important part of keeping this knowledge alive and relevant.
Table of Contents
THE GENERAL VIEWPOINT OF THE INDIAN NATIONALIST
First Invasion of India
Chandra Gupta and Asoka
India Practically Independent up to the Twelfth Century
Muslim Rule
Muslim Rule in India not Foreign
INDIA UNDER THE BRITISH
Political Disqualification of the Indians
All Europeans, Eurasians including Armenians and Jews can carry arms free of license; not so the Indians
Loyalty of Ruling Chiefs
Middle Class Desires Political Freedom
INDIA FROM 1757 TO 1857 A. D.
Conflict of French and English in India
How British Rule in India was Established
Methods of Consolidation of British India
British Public Ignorant of Facts
Conquest of India Diplomatic, not Military
The Great Indian Mutiny of 1857
How the Mutiny was Put Down
INDIA FROM 1857 TO 1905
PART I — FROM 1857 TO 1885
The Bengalee Babu
Forces Resisting Denationalisation
Political Disappointments
Lord Ripon
Lord Dufferin
PART II. THE BIRTH OF THE INDIAN NATIONAL CONGRESS
Indian National Congress an English Product
Hume, a Lover of Liberty
Congress to Save British Empire from Danger
The Congress Lacked Essentials of a National Movement
Hume's Political Movement
Congress Overawed
Congress Agitation in England
Causes of Failure of the Congress
PART III. THE BIRTH OF THE NEW NATIONALIST MOVEMENT
Swadeshi and Swaraj
Men who have Inspired the Movement
The failures of the Congress evolved the Nationalist Movement
Lord Curzon and Indian Education
Lord Curzon's Secret Educational Conference
Indians and Lord Curzon at Cross Purposes
The Congress Deputation to England in 1905
The Congress of 1905
Object of the Passive Resistance Movement
THE FIRST YEARS OF THE NATIONALIST MOVEMENT
Boycott of British Goods
The Second Move of the Bengalees: The National University
Arabinda Ghosh
The Nationalist Press
Military Measures against Boycotters
Lord Minto
Indian Press Gagged
Deportation of Lajpat Rai
Disaffection Driven Underground
Lord Hardinge Bombed
TYPES OF NATIONALISTS
The Extremists
A few Nihilists
Religions Extremists
The Mother Worshippers
Vedantists
Advocates of Organised Rebellion
Har Dayal
Hardayalism
Political Freedom the First Condition of Life
Arabinda Ghosh — Vedantist and Swarajist
Ganesh Vindyak Savarkar
The Terrorists
Advocates of Constructive Nationalisation
Independence, but not at once
Preparing the Nation for Freedom
Preparatory Work from Below
Brahmo Samaj, Arya Samaj, Ramakrishna Mission
The Moderates
Gokhale
Congress Leaders
Passive Resisters
6. INDIAN NATIONALISM AND THE WORLD-FORCES
Inspiration through European Nationalism
History of Modern Europe tabooed in Universities
Italian-Turko War
Interpretation of India to Western World
Tagorism
THE RELIGIOUS AND THE COMMUNAL ELEMENTS IN INDIAN NATIONALISM
Mohammedan Revulsion of Feeling against the British
Disaffection among the Sikhs
THE FUTURE
Change in Indian Life and Depth of Nationalism
Nationalism Fertilised by Blood of Martyrs
Wave of Indian Nationalism is on
Propitiation and Petty Concessions Futile
Internal Division no Valid Plea
Illiteracy the Fault of the British and no Bar to Self-government.
Internal Troubles
Unfitness of Orientals for Representative Institutions.
Nationalism has come to Stay
Curzons, Macdonnels, Sydenhams, responsible for Bombs and Revolvers
APPENDICES
Feudatory Chiefs Powerless
Industrial Ruin of India
India a Mere Possession
Masses Starved
70,000,000 Continually Hungry People in British India
Deaths from Famine from 1891 to 1900 alone: 19,000,000
Famines of Money, not Food. Lord G. Hamilton
Causes of Famines
Drain
Enormous Foreign Tribute. Rev. J. T. Sunderland
Government assessment too high
The Ryot
Indian Plunder. Adam Brooks
"Narrow and Shortsighted Imperial Policy." Sir Archibald R. Colquehoun
Taxation. Lord Salisbury. The British policy of bleeding Indian people.
Plague, Deaths from
Indian Finance
Land Tax
Income Tax
Customs
TRADE FIGURES FOR 1973 to 1914
PERSONNEL OF THE GOVERNMENT
FIGURES ABOUT EDUCATION AND LITERACY
England's Debt to India by Lala Lajpat Rai PDF is Here.
Young India: An Interpretation and a History of the Nationalist Movement from Within PDF
Author(s): Lajpat Rai (Lala)
Publisher: Hindustan Books, Year: 2012
ISBN: 1340803933,9781340803933
Young India by Lala Lajpat Rai
Related More Books
See More POST On : A Special Books